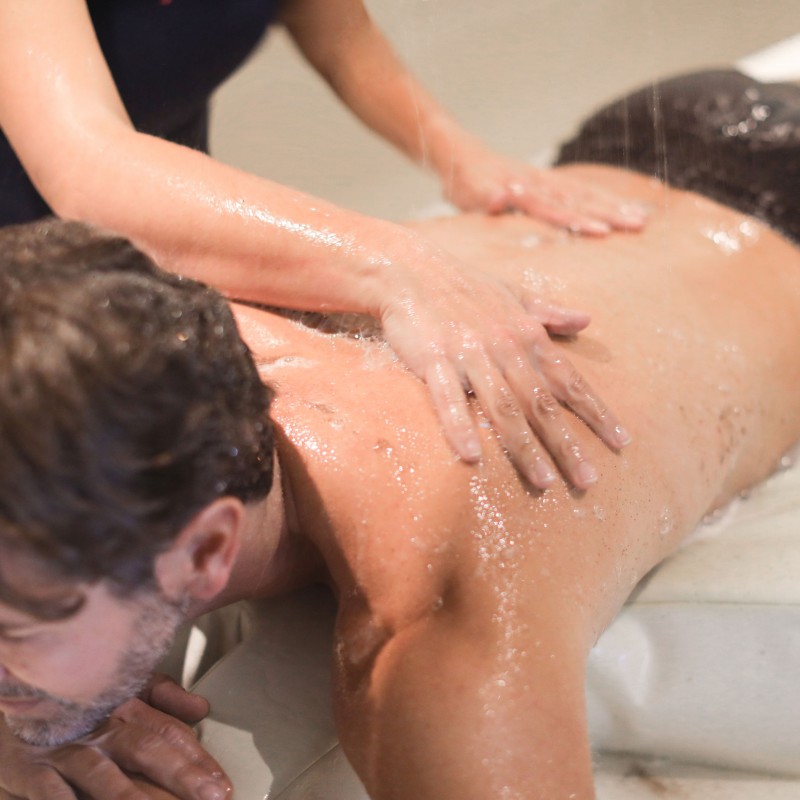 Relaxation & beauty
Affusion Shower Scrub
Treatments
With the affusion shower scrub at La Thalasso Deauville by Algotherm, you'll rediscover soft, detoxified skin thanks to a Tahitian black sand scrub applied beneath a warm sea water shower.
A blissful treatment for a detoxified body and incredibly soft skin.
A Tahitian black sand scrub is applied to both sides of your body while overhead showers gently rain down warm sea water, as if surrounding you with sea spray, focusing in each exfoliated body part. Exfoliation to slough away dead cells and heat to open the pores allow active ingredients from the sea to be absorbed by the skin quickly so they can be distributed throughout your body. The sea water scrub softens and detoxifies your skin.
Enjoy the benefits of sea water
Since the 19th century, we have known that sea water and the water in our bodies are very similar. The idea behind thalassotherapy is to transfer the active ingredients in sea water to the body to replenish what it needs. Sea water contains some sixty trace elements, including calcium, sodium chloride, cobalt, iron, magnesium, potassium, selenium, and zinc. These trace elements perform many functions, from regenerating muscle cells to oxygenating tissue, strengthening bones, and protecting against stress.
Extend your wellness!
During your half-day of treatment, you will enjoy free, direct access to Deauville's Olympic-sized swimming pool (depending on the days and hours it is open as set by the municipality), the La Thalasso pool (when water aerobics classes are not in session: see the schedule), the weight training and cardio room, the sauna, the hammam, the sun-drenched rooftop on nice days, and the relaxation room stocked with Deep Nature organic herbal teas.