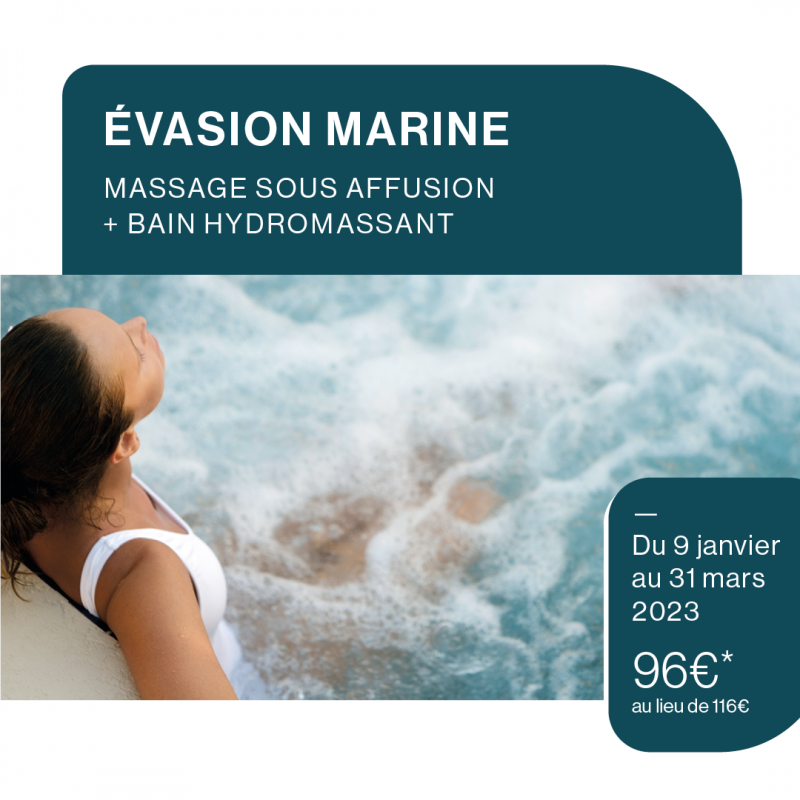 Relaxation & beauty
To start the year 2023 under the sign of well-being with 2 treatments at the Thalasso Deauville by Algotherm.
Two treatments to start the year well !
Step into a hot water tub to relax your entire body to allow the jets to massage you along the muscle paths, from feet to head, like wave massage. Keep your eyes open and enjoy the benefits of underwater light therapy.
This is a manual massage performed by one of our hydrotherapy practitioners. Lying on the table, you will be delighted to take advantage of the combination of precise maneuvers and a fine stream of seawater dripping on your back: in a few minutes, you already feel calm and in good hands!

Sit back, relax, enjoy these two moments of relaxation.

Exclusively on sale between the 9th january and the 31st of march 2023 on the site or by phone at 02 31 87 72 00 within the limit of 10 stops available per day.
Extend your wellness!
During your half-day of treatment, you will enjoy free, direct access to Deauville's Olympic-sized swimming pool (depending on the days and hours it is open as set by the municipality), the La Thalasso pool (when water aerobics classes are not in session: see the schedule), the weight training and cardio room, the sauna, the hammam, the sun-drenched rooftop on nice days, and the relaxation room stocked with Deep Nature organic herbal teas.