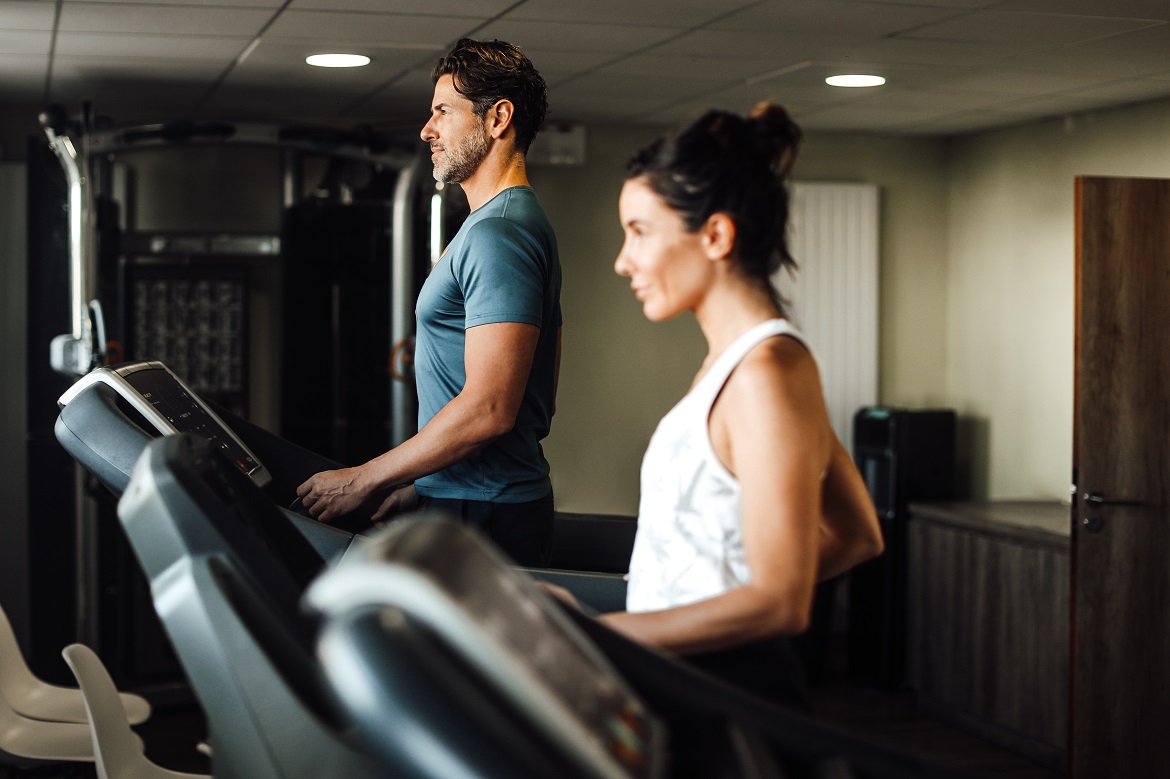 © stefanMucchielli
The Sports Club at La Thalasso Deauville Algotherm features indoor and water activities for all tastes and levels
Whether you are a permanent resident of Deauville or visiting for a short stay near the sea, the Sports Club offers packages and subscriptions for everyone to enjoy fitness therapy at their own pace and level.
A weight training and cardio room with state-of-the-art equipment
La Thalasso Deauville Algotherm is on par with sports facilities. To help you stay in shape with cardio training, we have three treadmills, four stationary bikes, three ellipticals, and two rowing machines available for passholders.
For weightlifters, the sports club offers equipment to work the lower body (a squat rack, a leg extension machine, a leg press, an adductors & abductors machine) and, of course, the upper body, with a bench press, a chest press, a high pulley machine, a bicep curl machine, a back extension machine, an abdominal machine, a bench, and a flat bench.
The Matrix rack offers a more comprehensive approach to fitness and total body maintenance, including your shoulders, legs, arms, back, chest, and abdominals. Just take your pick! Nathalie and Franck, the fitness centre's two coaches, are available (except during group classes) to answer your questions, give you tips, and develop a tailored programme for you.
A sports consultation is also included in the slimming therapy.
See our prices for sports club passes
Indoor group classes: fitness, pilates and stretching for group motivation
At the same site as the spa, there is a beautiful, well-equipped fitness centre, rich with natural light, that welcomes visitors seeking to round out their treatments with some exercise. Every day, Monday to Sunday, two state-certified sports trainers offer a variety of group classes so that everyone can find an exercise to suit their needs and expectations:
Muscle building
Body sculpting
45min group class All levels.
To tone and develop the arms, chest, and shoulders.
Buttocks, Abs, Thighs
45min group class Intermediate level.
To strengthen and develop the lower body and tone the abdominal muscles.
FitStrap
45min group class by reservation. 
Suspension training to fully work the muscles for strength, endurance, and power.
Gentle Gym
Stretching
45min group class Beginner level
Muscle stretches and joint mobilisation to stretch the body to physically relax, eliminate muscle tension due to stress and fatigue, and improve physical qualities (flexibility and coordination).
Pilates
45min group class Beginner level
A gentle method working deep muscles to improve your body shape and mobility. Helps to align the body properly for better posture.
Toning classes
Longe-côte / NEW 2021
45 min group class all levels.
Beach walking, sea walking or water hiking, is a sport practised on sandy beaches. It consists of moving forward in the water in a series of large steps immersed up to the waist accompanied by various arm movements. This discipline allows for muscular and cardiovascular strengthening at the same time promotes blood circulation. The "Longe-côte" also improves balance and endurance.
Boot Camp
1 hour outdoor group class. Intermediate level.
Physical exercises based on army exercises. Find motivation in the great outdoors to work hard and push yourself further.
Nordic walking.
1h30 group class.
Nordic walking is an outdoor activity using specially-designed carbon fibre poles. Accessible to everyone, it improves endurance and strengthens all the body's muscles. Depending on weather conditions.
Gentle energy class
Sophrology
45min group class. All levels.
A relaxation and self-discovery method involving breathing and static and dynamic body exercises to relax both physically and mentally, learn to manage stress, and improve your sleep.
Water group classes for fans of the gym's pool
Water Aerobics
Well-rounded and fun, water aerobics is very popular and has devoted fans! Your body is buoyed in sea water, making movements easier and protecting the joints. Thanks to water resistance, a session of water aerobics is up to three times more effective than a "land" workout. In addition to reshaping your figure and protecting against cellulite, water aerobics strengthens the muscles and improves circulation. Simply get in the water and listen to the rhythm of the upbeat music, and follow the instructions! Accessories (pool noodles, gloves) help create variety within the exercises. The session ends with well-deserved stretching. Two classes are proposed in 45 minutes: tonic aquagym or soft aquagym.
Aquabike
Specifically targeting the lower body, aquabike is carried out using a bicycle immersed in the sea water pool. The exercises run together through music, at different rhythms, requiring more energy than when using a "traditional" bike. Over the course of the sessions, your cellulite fades and your legs become firmer. Your abdominal wall is toned. Also, your joints are protected thanks to the near-weightlessness of sea water. 45 min
See the schedule of group classes
Water classes require a reservation 10 days before the class.
SEE THE SCHEDULE OF THE LEISURE POOL
See all our Sports Club passes and packages
La Thalasso Deauville Algotherm offers a Privilège package available with an annual or weekly membership (from Monday to Friday) :
Access to the spa : sauna, hammam, swimming pools, relaxation room, and rooftop.
This package also works at ½ day with one class possible per ½ day (aquagym or fitness).
For frequent short stays or weekends in Deauville, you can also opt for the Privilège 10-time card (1 year validity).
Bathrobe and towel are provided for each visit.
Private coaching
You are offered one-hour individual coaching with a professional outside or inside. The professional will adapt the training according to your needs and and abilities.
See our prices for sports club passes
To join the Sports Club at La Thalasso Deauville Algotherm:
Visit the La Thalasso front desk at 3 rue Sem in Deauville with a doctor's note, required for any membership longer than 1 month.