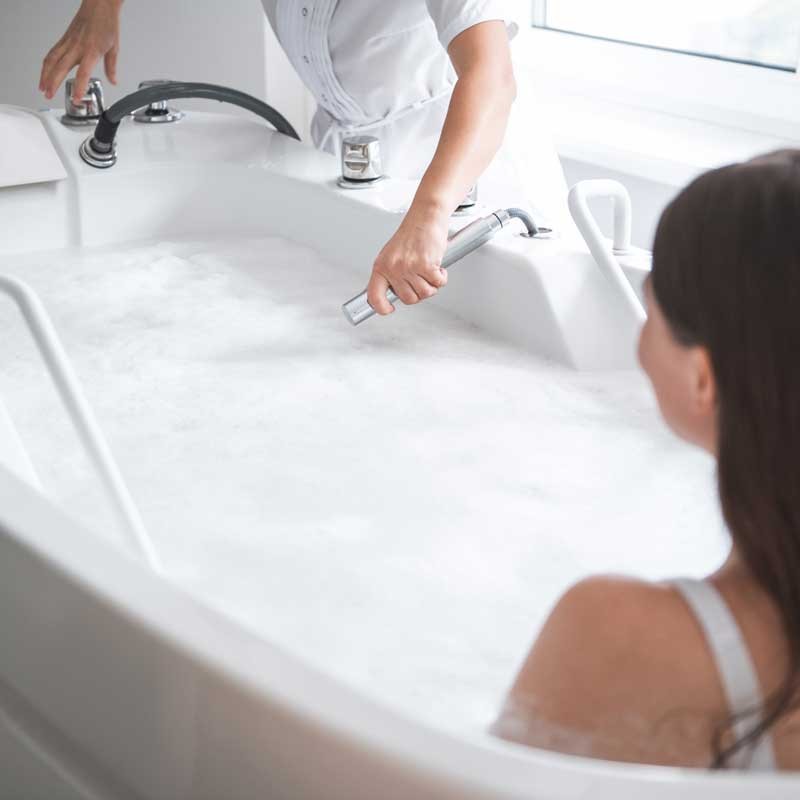 Relaxation & beauty
Underwater shower
Treatments
Immersed in a Moorea bathtub, this hydromassage is pure relaxation. Performed by a hydrotherapist.
Enjoy the warm water and let the jets relax all areas of your body.
While you are immersed up to your shoulders in your Mooréa bathtub, the hydrotherapist directs the shower jet on the areas to be treated: it starts and ends with the stomach, massaging it in the direction of the intestinal transit. The soles of the feet are then treated, followed by the legs to drain the circulation, the knee joints, the hips, the hands, the elbow joints and the shoulders.
The hydrotherapist finishes the treatment by directing the water jet on the back, going up from the buttocks and pelvis to the shoulders, then to the cervicals and neck. Pure relaxation!
The water is heated to 37° C, but it can also be colder to obtain a more tonic effect. The pressure of the jet is modulated by the hydrotherapist according to the zones of the body. The underwater shower lasts 15 to 18 minutes and is not recommended for the vital parts of the body because the jets are quite powerful.
This type of treatments is not recommended for pregnant women, the elderly or children.
Extend your wellness!
This treatment does not give you access to the center's facilities, however, for an extra 9€ (to be paid on site), during the half-day that you have your treatment, you will have access to the Thalasso's relaxation pool, the sauna, the sunny roof top on sunny days and the rest room. Towel and bathrobe are provided.