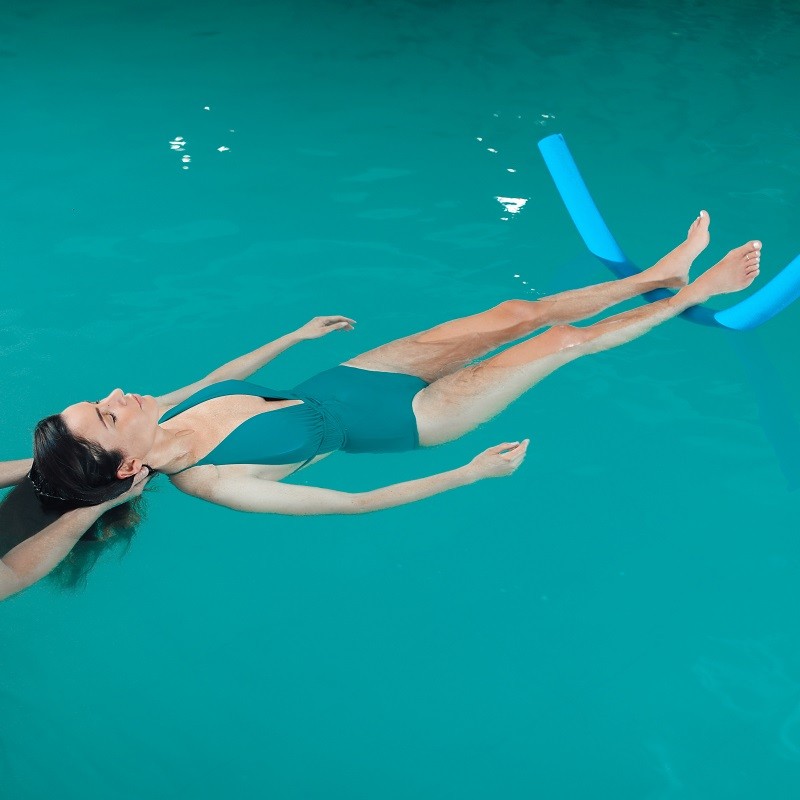 Relaxation & beauty
Aquatic Osteopathy
Treatments
This osteopathy session takes place in warm sea water for deep physical and emotional relaxation.
Let go completely for an even more effective session.
Arranged comfortably on floats, the body is carried by the warm, enveloping sea water. Enjoy the benefits of your osteopathy session without every coming into contact with a massage table.
Gentle manipulations, massage, and palpations relieve muscle and skeletal pain, while the water environment relaxes you and melts away stress.
Aquatic osteopathy is particularly indicated for:
relieving the aches and pains that expectant mothers experience (between the third and seventh month of pregnancy)
easing chronic pain through total muscle relaxation
recovery from surgery, since the analgesic effect and muscle relaxation caused by the warm water soothes scar tissue
overweight people, creating ease through the weightlessness of water
athletes, to rebalance the posture and reduce muscle tension
the elderly, providing greater comfort
Enjoy the benefits of sea water
Since the 19th century, we have known that sea water and the water in our bodies are very similar. The idea behind thalassotherapy is to transfer the active ingredients in sea water to the body to replenish what it needs. Sea water contains some sixty trace elements, including calcium, sodium chloride, cobalt, iron, magnesium, potassium, selenium, and zinc. These trace elements perform many functions, from regenerating muscle cells to oxygenating tissue, strengthening bones, and protecting against stress.
The Bistrot des Planches: lunchtime refreshment and enjoyment
Step into the warm and friendly atmosphere of La Thalasso's restaurant, featuring a tasty cuisine developed by our chef, with the day's fresh ingredients. Traditional dishes, lighter options, salads, and vegetarian dishes are available, along with La Veggisserie desserts. A "Lunch & Thalasso" pairing combines the benefits of thalassotherapy and the bounty of the table.